7/7 Press Release: Teledactyl Empowers Patients & Providers with Blockchain Technology
July 20, 2018
Posted by:
Category:

Breaking News
Teledactyl is the first U.S blockchain-based healthcare ecosystem with its own cryptocurrency payment system and is on a mission to restore and optimize patient-provider relationships. Teledactyl stands apart from its competitors with its unique secure cryptocurrency payment option.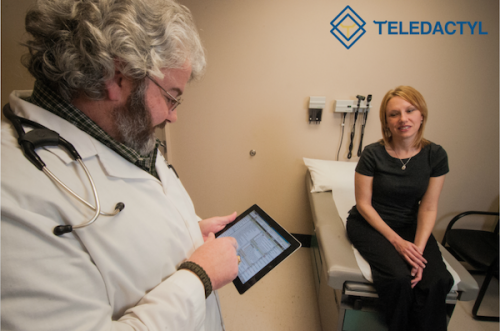 Cheyenne, United States – July 7, 2018 /PressCable/ —
Black-owned Health Tech Company "Teledactyl" seeks to Disrupt Healthcare Market
Teledactyl is the first U.S blockchain-based healthcare ecosystem with its own cryptocurrency payment system and is on a mission to restore and optimize patient-provider relationships. "The advent of blockchain technology has been all the buzz in the realm of healthcare IT and is proving to be much more than the backbone of encrypted, anonymous electronic fund transfers, says Alan Bottorff, Co-founder & CEO.
A blockchain, in simple terms, is a digital ledger that has the capacity to store information. It allows data to be distributed, but not copied. The technology is highly effective when it comes to data integrity and eliminating the potential breach of sensitive information. Blockchain is commonly known for its encrypted data transfer, security and immutable record keeping. Teledactyl is taking advantage of these features to improve the flow of healthcare patient information, eradicating inefficiencies in the current healthcare system.
Teledactyl creates digitized personal health records (PHR) for its users, which they can share with healthcare providers. Any data that is added, changed or deleted by a health professional is automatically recorded in the user's blockchain in the form of a ledger, providing much needed security and transparency in an industry susceptible to data breaches. The blockchain system is also compatible with multiple applications, making it easier for health systems and providers to integrate the technology.
It also exceeds standards of accessibility, allowing patients to access their personal health records without having to contact their doctor's office. While most health records are frustratingly inaccessible when moving to different providers or between health systems, blockchain technology enables a patient's health information to be stored permanently. That means easy access for patients and future providers who need a thorough medical history.
What sets Teledactyl apart from its competitors is its unique secure cryptocurrency payment option. While similar blockchain systems often use "utility tokens", Teledactyl has its own cryptocurrency payment network. This method provides a "P2P" payment system from patient to provider. It increases healthcare per dollar and reimburses providers instantaneously after services are offered. Even better, patients don't have to rely on third-party insurers or payors; the power lies with them. Further, a controlled blockchain payment network allows a fully transparent, permanent and immutable record of all transactions in the teledactyl token. Payments are highly secure and encrypted, making waste and fraud more easily detected.
"The United States healthcare system is in dire need of an efficient method to preserve and protect personal health information, reduce healthcare costs, increase provider access and improve methods of payment– all while bettering patient outcomes. We want to eliminate the discrepancies in our healthcare system that disrupt patient and provider relationships. Everyone should have immediate access to their health records. Teledactyl isn't going to wait for a healthcare revolution. We're going to start one," says Dr. Seth Crapp, Co-Founder & Chief Medical Officer.
Teledactyl believes the problem lies greatly in the bureaucratic nature, broken communication and redundancy that continue to plague the current healthcare system. While an electronic record and innovative payment system might not provide immediate solutions to the complexities of the industry, they are significant steps in the right direction.
With a major launch slated for August 2018, the Teledactyl team is making rounds and increasing awareness of this groundbreaking technology. For more information and access to the white paper, visit www.teledactyl.com or send email to contact@teledactyl.com.
About Teledactyl: Teledactyl Blockchain Ltd. Liability Co. is the first U.S. blockchain-based healthcare ecosystem with its own token and cryptocurrency payment network. Our mission is to transform healthcare by restoring and optimizing the patient-provider relationship. The Teledactyl team is made up of a dynamic group of professionals from healthcare, technology and finance industries with experts in cryptocurrency, representing top institutions, including UPenn, Duke, Harvard and Vanderbilt.
"We aren't waiting for the future of healthcare; we're building it!
Posted: Jul 07, 2018 9:20 PM EDT Updated: Jul 07, 2018 9:20 PM EDT
For more information, visit https://teledactyl.com.
Contact Info:
Name: Sharee Gilbert
Email: sharee@thegilbertgrouppr.com
Organization: Teledactyl Blockchain Ltd. Liability Co.
Address: 1621 Central Avenue, Cheyenne, WY 82001, United States
Phone: +1-954-305-5444
For more information, please visit https://teledactyl.com
Source: PressCable
Release ID: 373885